"Dear fisherman hives aka honorable father of Sons,
Today at the gym, a tall built black guy that I could tell was "that one"...a hater..."knocked" on my shoulder like he was knocking on a door, between my sets as I was watching some soccer match. "You on this?", he said. Now, it may sound like no big deal, but it was more of a pushy, get out of my way, I'm challenging you kind of thing. I was still watching the soccer match, as I saw him staring me down the other day and in the exact same area (the pull up bar between cable crossover exercise area) and I was standing there recovering from my set...he came walking up to me like I was to get out of his way and we both looked at eaach other, I was cool, he looked intense...like a real d**k. And I didn't move...he walked right past me. So, I thought "who knows me that well enough up in here to tap on my shoulder like that? And after a second or two, I did a half turn towards him and said "go ahead". And then as I was walking with my bag to leave, I had to go past him, but as I was coming abreast of him, he crosses my path so I have to divert mine.

I know there will always be haters, but I am SO tired of dealing with that...been a thing that I've had to deal with my entire life. How do you create presence of relaxed, playful physical/mental dominance? Not the scared dog that is looking to bite anyone around him (as even when I try to relax in public situations, that's how I feel I'm projecting myself)....where other men know to think twice than to mess with you...they can sense it. Is it through being a real man and experiencing difficult things and pushing yourself so that everything else is "turned down" so to speak?
I felt very disrespected by his tapping on my shoulder. Like a "How dare you touch me like that, you plebe!" reaction. And especially how a man like that looks at me...where I have to divert my eyes so that I don't let the situation go somewhere it doesn't need to. Let the haters hate, but I'd rather have it where they don't. Let them hate on someone else.
Your son,

Ryan"
...
Dear Son Ryan,
I toughouly enjoyed this take of NATURAL JUSTICE/NATURAL LAW. Punks always jump up to get beat down -- I call it yappy-dog-syndrome. For some reason, lessers seem to like instigating beatdowns from those who are superior to them. Have you ever noticed how some sheeple just BEG to be bat down, either physically or verbally? I have noticed this my entire life. What is going on is your typical PIMP - HOE eletrogenisis. Basically the hoe is looking for a pimp. I have noticed, like the benevolency before me, that the WEAK actually SEEK the STRONG to DOMINATE them. This may seem counter intuitive to some of you who foolishly think every man wants to take care of himSELF. NOTHING could be further from the truth. Hoes are abound each and every day, in your town and mine, LOOKING FOR PIMP.
Above is an example of a HOE that has FOUND her pimp. As such she is relaxed, dapper, obedient, chipper, and svelte.
This is the GOAL of the WEAK to find a PROTON to attach to. But you might be surprised to see HOW these electrons go about finding a pimp... typically they disribute the most foul and wickedly outrageous public bee-hivior in an attempt to get the pimps attention by displaying how WEAK they are and how utterly unable they are to maintain any basic SELF CONTROL or self discipline....
Now, what we see ABOVE at first seems like the dog hates its owner. But does it? Yes the dog IS annoying ans seeks to ANNOY its owner - but ONLY in the same capacity that a crying baby seeks to annoy its mother - in other words its wanton beligerent annoyances are merely a display of HELPLESSNESS, and helplessness is what pimps seek from hoes.
Coming soon: The NEW BOOK by the honorable djhives
Die Sheeple Die!, Volume 3: SLAVE OWNER©
Coming November 2014 - PRE ORDER NOW!
How many countless times have you observed sheeple "ASKING FOR IT"... honking their horns, yelling at bar patrons, making comments in lines, STARTING SHIT THEY CANT FINISH. HOW is it so many sheeple can seemingly BEG to get their ass kicked by others? Are they stupid? Well sort of - but thats not the point, for they KNOW exactly that they are doing and they want to be PUT IN THEIR PLACE. They want a DADDY. A good rock solid stong post-office DADDY to restore ORDER in their miserable lives! Is that not the reason any prostitute seeks a mack-daddy?
Let us now turn to EXHIBIT "N":
The above NIGGER BITCH aka the 'black woman' is enough to make your skin crawl? Observing this creature in public you will notice some of the most LOUD, ABONOXIOUS, CHICKEN-FED, downright NIGGARDLY bee-hivior spewing forth from its SHE-APE babboon lips. In short it is DUSGUSTING, VILE beyond words in ANY language. A human CHIMP Xanax ape black HEATHAN with of all things STRAIGHTENED HAIR to look like a honkey bitch. LOL! My POINT is that these SILVER-BACK GORRILLAS with white-people wigs on their heads are without a doubt THE *MOST* LOUD AND OBNOXIOUS PEOPLE IN ANY COUNTY.
I walk down the street and I hear "yeeiah he on axe me if I ont wan be doin shieeeit fuccck biiiosh.." etc. etc. EBONIC NIGGERCUNT BULLCRAP!!! YOU FOOLS KNOW WHAT IM TALKING ABOUT! When you are sitting there in the park alone trying to enjoy a tea when you suddenly hear monkey-talk in packs in the distance and you say to your self "I HEAR NIGGER" "I HEAR NIGGER!" "HERE NIGGER NIGGER NIGEER OOOOWWWWWEEEE OOOOOWWWEEEEEEE SQUEAK SQUAAEEAKK SQQUUUAAAAKK" -- and every INSTINCT in your body wants you to STAMP this black niggershit ebonica zulu ape water buffalo into non-existence... you immediately go into FIGHT OR FLIGHT mode.. then quickly realize that a black female, objectively speaking, is the lowest form of life anywhere inside the entire solar system. Goddam bathroom floor centipedes cringe and vomit when they hear the sound of black women coming their way. Anyway most realize that since black women arent even worth fighting, they simply move along to a quieter area hopefully devoid of fried chicken outlets and hair straightening salons. Oh how that BLACK FEMALE APE just LOVES to fry her hair like WHITEY and then CALL HERSELF "BLACK" --- "YEAH I BE BLACK, I JUST BE WALKIN ROUND WITH WHITEYS HAIR ON MAH HEAD CAUSE I LOOK LIKE AN APE WIT-OUT IT! YEAH I BE BLACK!" --- irony CUBED!!
Anyways - my POINT is everyone this side of the Crab Nebula knows black women are LOUD AND OBNOXIOUS. *HOW* is this so???? The REASON is they are simply doing this:
YAPPING!
You see - since black women are the LEAST DESIRABLE thing a man wants to stick his penis in they must be as LOUD and 'YAPPY' as possible to attract a potential PIMP (extreeme longshot BTW) - THEREFORE the black woman shall always be loud and obnoxious. Her constant unfatomable beligerence is merely her seeking for someone, ANYONE (or thing) to put her in her place.
Look fools its simple. Those elctrons that have a pimp are quiet. Those who dont, YAPP - begging to be beat and dragged to restore ORDER in their scary hopeless lives (read a black womans life). If they still dont find a pimp, they simply act more and more helpless (beligerent). As such the next time you see a SIMIAN on the street engaging in some seemingly ILLOGICAL action (ie road rage, line cutting, smack talking, etc.) rest assured that this is NOT chaos, he has NOT 'lost his mind' - he is simply looking for YOU (or someone STRONG) to CONTROL HIM. Whenever I have encountered any situation like this and I then bark back, they proceede to melt like butter and turn into faggots with their asses in the air like a cat in heat -- its like they're literally ready to receive my penis -- its as if my barking at them gave them everything they didnt have (a daddy to tell them right from wrong since they cant figure it out on their own). The passive-agressive 'insitigator' that you describe in your story Son Zorich im sure wanted to be FRIENDS with the YOU once you 'beat him' up shortly thereafter... am I right?
Todays lesson is to learn how to decipher human electron avenue walkers looking for a mack daddy to free them from themselves. The fool running loose ont he street looking for a fight, is really looking for a father. Be that daddy and exploit your new WHORE for all shes worth (not much if she is a black nigger female)
Let us again look at EXHIBIT "N":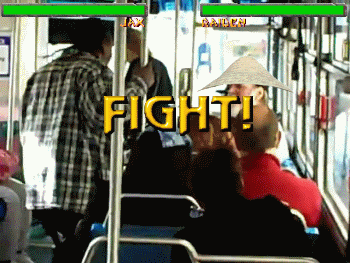 Above is a PERFECT and COMMON example of A HOE SEEKING A PIMP! For a *seemingly* unknown reason a man picks a fight with a bigger man just BEGGING for an ass whipping. And when daddy delivers the goods all is well in little D'Timothys black brain - for now he feels the love and security that only the PIMP HAND can bring. Now grounded, D'Timothy will walk the streets knowing that
SOMEONE
LOVES HIM.
Who is daddy?
Daddy is that person who yells, beats, disciplines and gives ORDER in the family structure. He is the proton.
Who is mommy?
Mommy is the person who is 5'2, and physically useless other than for the improtant tasks of cooking, cleaning, and baby-making (fucking) which makes daddy work (provide) better.
Together they form an atom which is the code of the universe.
If mommy feels insecure she will act foolish to prove her helplessness and therefore NEED for a protonic pimp.
Perhaps D'Timothy lost his job (at McDonalds) or got laid off. He simply wanted SOMEONE *STRONG* to beat him down SIMPLY TO REASSURE HIM THAT STRONG PEOPLE STILL EXIST (PIMPS) - AND SINCE STRONG PEOPLE STILL EXIST (AS EVIDENCED BY THE MAN WHO BEAT HIM DOWN) THEN THERE IS HOPE THAT HE CAN NEST UP UNDER ANOTHER PIMP IN THE FUTURE (get a job at Burger King). This is why punks jump up to get beat down.
--father hives
Coming soon: The NEW BOOK by the honorable djhives
Die Sheeple Die!, Volume 3: SLAVE OWNER©
Coming November 2014 - PRE ORDER NOW!